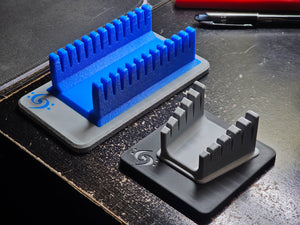 Radio Harness Soldering Station!
🔥 Upgrade Your Soldering Game! 🔥
🌟 >> 
Accepts up to 14g wire in all 12 Slots

<<
 🌟
✨ Price: $35 Shipped (United States) ✨
➡️100+ Selectable Color Combinations⬅️
Do you solder together radio wiring harnesses often? Tired of doing one at a time?!  Look no further! 
Our 3D-printed Soldering Station acts like a second set of hands to secure your wires effortlessly.
🔸With 12 slots all able to tightly hold up to 14g wire firmly in place you'll get through those harnesses FAST!

🔸Crafted from high-quality PLA material, it guarantees durability and precision.
🔸 We print it at 100% infill for extra weight, ensuring maximum stability during use.

🔸 Want a unique touch? Choose from a range of custom colors for a special touch! **
Say goodbye to the hassle of fumbling with wires, and hello to a streamlined soldering process! Plus, with our custom color options, you can add a personal flair to your workspace.
🚀 Fast Shipping: Expect your order to be shipped within 5-7 business days.
Upgrade your soldering setup today and make your projects smoother and more enjoyable. Order now! 😄

** If you select the "Custom Colors" option, we will E-Mail you to confirm your order. :)