Bassahaulic Productions Designed Box
4x VO-MN6.5 – 6.5" Voice Optimized Mid-Range Neo
2x VO-B2 – Voice Optimized Bullet Tweeters
4x 9912 ESP – 12" 9900 Series – Power Tuned Subwoofers
2x M4B – M Series Monoblock Amplifiers
1x D4.75 – D Series Mini 4 Channel Amplifier
Read his story here: http://ddaudio.com/ddownlow/goddzilla-king-of-the-bass-monsters-how-one-man-moved-heaven-and-earth-to-bring-this-beast-to-japan/
GoDDzilla: King of the Bass Monsters – How one man moved heaven and earth to bring This Beast to Japan!
Today we offer a tale of how dedication and fellowship helped a US Navy Veteran in Japan achieve his goal of creating an extreme build known as GoDDzilla. It starts back in the mid 90's when a basshead by the name of Khalif Assad joined the United States Navy. It's not easy, as it turns out, to bang when you're traveling duty station to duty station the world over while also raising a family. Fast forward 24 years and our serviceman, now stationed in Japan, retires. Working a civilian job on his old base in Japan, Khalif is ready to make up for lost time in a big way.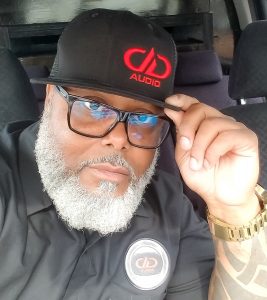 There wasn't much of a bass scene in Japan, his only access to it were his friends Coop and Web. They inspired him to get into the bass game and this is when Khalif began with research and asking around. In the end a trusted friend, former brother in arms, and certifiable basshead Phree Jones, introduced him to DD Audio. To whet his appetite, Phree sent Khalif videos showing the sheer power of DD builds, but it wouldn't be until a visit stateside that Phree could give his old friend the life altering demo. The 9900 Series Power Tuned Subwoofers equipped with ESP are among the longest-lasting and hardest hitting subwoofers on the planet. A single "Beast" will operate efficiently on 1500-2500 Watts RMS but can withstand Peak Power bursts of up to 10,000 Watts. So after just a few minutes in Phree's Tahoe, blasting two 9918 ESPs, Kalif was hooked. He knew right then and there that DD Audio was the way to go. But with Japan calling him back, Kalif would need his "little bro" Phree to order and send out the first two 9912 ESP Subwoofers.
As one may imagine, shipping these Beasts from Mississippi to Japan proved difficult. They couldn't simply drop the subs in a mailbox like a postcard. Their only real option was a pricey one: air freight. As painful as it may have been, Kalif refused to let this expense stand in his way. After shelling out, he was one step closer to realizing his vision. Now he just had to get the beasties installed.
Khalif could probably school most bassheads on what's needed to build an airfield or a submarine base, but when it came to box design, he would be the student. Luckily, Phree knew just the teacher: Drew Jones of Bassahaulic Productions, a skilled designer and builder of enclosures for DD Audio subs. Drew provided a box design for Khalif to build into his spacious Pacific exclusive 2007 Honda Step Wagon.
This version of the system was a straight-forward install that resulted in a build capable of serious pavement pounding as it consisted of Khalif's two prized 9912 ESP Power Tuned 12" Subwoofers being run off a 4500 watt amp. At this point Khalif could sit back and enjoy what he had created. Any additions would bring on further shipping expenses and re-investment of time and resources. Besides, what he had in this version would certainly be enough for the average basshead. But here's the thing: Khalif isn't average.
I wasn't satisfied. I knew I wanted more and I knew everything had to be DD.
Having re-evaluated his goals, Khalif again reached out to Phree to plan phase 2. The first and most obvious improvement would come with the upgrade of his mids and highs. Khalif would add two sets of VO-MN6.5 Voice Optimized 6.5" Neodymium Driven Midrange Speakers and one set of VO-B2 Voice Optimized Bullet Tweeters. Also, Phree sold two newly reconed 9912 ESP Power Tuned 12" Subwoofers to Khalif, bringing his total to four. All this new hardware would mean more juice which would come by way of two M4b Monoblock Amplifiers to power the substage and a single D4.75 to power the mids and highs with plans to expand as time and money allowed. For the new box design, Khalif would again turn to Drew at Basshaulic.
In his own words:
I reached back out to Drew to design a 4th order for the four subs because not only is he a phenomenal designer, but he also knows and understands the complexities that I'm facing with regards to vehicle registration regulations here in Japan. After working with him on my first design, I knew he would get me where I needed to be on this one. Plus when you work with Drew he makes you feel like family. You're not just another customer or dollar value to him. Of course, Drew and Phree both made fun of me because here I am less than one year and I'm changing up again, lol. But hey, you're never satisfied until you're satisfied.
For the new box, they used birch ply and went with a 4th order bandpass design, tuned at 41.5 Hz. To install everything (the door speakers, the deadening mat, the 0 gauge wiring, the big three, MDF, pillar, box, etc.) the retired Navy Seabee builder put his old battalion's motto into action: "Can Do". Spending one's spare time transforming a monstrous mini-van inch by inch in its entirety with only the occasional help of friends to break things up, can feel endless, but this man kept his eye on the prize and got it done in a little over a month. Not done in the sense that there weren't still evolving goals to accomplish, perhaps, but certainly done in the sense that he was ready to put it out there for Japan to behold.
According to Khalif, big bass builds are few and far between. Most car shows focus on SQ over SPL. Khalif had plenty of both. When he rolled onto the scene with GoDDzilla for the first time, the crowd was blown away.
They had never seen a custom build such as mine nor had they ever felt bass the way they felt it coming from my van. I literally had the whole ground shaking which surprised me even.
Khalif is already planning the next show and envisions many demos and hair tricks to come for his roaring kaiju. Khalif has certainly learned a lot from the experience thus far. He's learned to always use the proper screws to mount your subwoofers, to trust the experts, to accept help when it's offered, and that air freight to Japan is damned expensive. Khalif Assad is once again a basshead, but unlike the young man shaking the streets 24 years ago, this man gets to apply the patience of a retired Seabee Builder Chief Petty Officer to take his build to the next level.